RealBillet™

Grooved Door Handle Surrounds & Door Pull Handles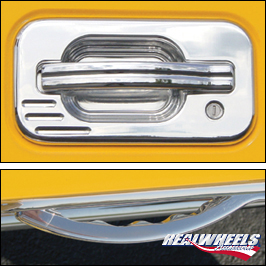 Looks great & feels great! Small, design grooves add detail to the door handle surround and increase the attractive light-reflective qualities. The billet aluminum door pull has the same groove running its entire length, and even features ergonomic finger grooves on the back of the handle. Universal design fits all models including 2006 and up.
Deter Theft!
RealWheels Billet Door Handle Surrounds help deter thieves from breaking into your H2. The solid billet surround makes it more difficult to pop the door lock cylinder. Considering the cost of a break-in, these Surrounds are a great investment.
Surrounds Model: RW204-4-A0102
Surrounds Pricing: $703.60 (per 4 piece set)
Pull Handles Model: RW205-2-A0102
Pull Handles Pricing: $338.95 (per 4 piece set)