Chrome Plated Air Horns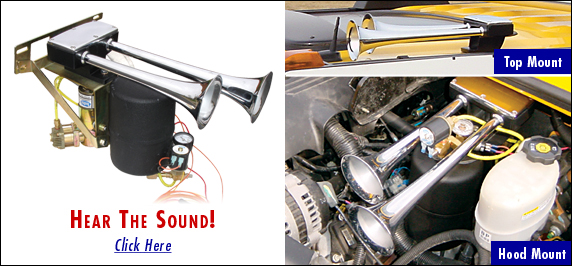 With full tank pressure up to 135 psi, this on-board air system will not only blow you away with the sound of its horns, but can also pump up anything else you need. Horn has an exclusive sound chamber, rugged die-cast construction, stainless steel diaphragm, and chrome plating. Doubles as an on-board air compressor for external use. Fully assembled for easy installation. Includes everything needed: Dual horns, electric compressor, air tank, hoses, fittings, mounting brackets, extension, and coiled air hose.
All Air Horn components are already attached to the specially designed mounting bracket. Entire unit mounts under the hood with the option of mounting the air horns on the top of the vehicle.
For installation on 2003 to 2007 models only.
Horn Measurement: 15-1/4"L x 7"W x 3-3/4"H
Decibels: 135db
Model: RW502-1-A0102
Pricing: $659.05 (per unit)