RealStainless™

CORSA RSC Sport Performance Exhaust System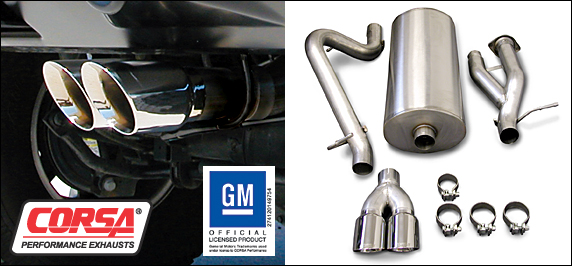 HEAR THE SOUND!
Idle

Revs

Interior Revs

Launch

Drive By

65-70 MPH Cruise

Full-Throttle Acceleration

When the RealWheels project team built their extreme "Get Real" Hummer H2, they were determined to add an exhaust system that would compliment the vehicle with an attractive look and improved sound. RealWheels Accessories has now made this same system available to you. After testing various systems, CORSA became the clear choice. The system offers a quiet and comfortable sound when cruising, but pounce on the throttle and hear this powerful system come alive!
Dyno-proven 10 plus horsepower / 6 ft lbs of torque gain
Dual Pro-series 4" polished exhaust tips
Made of 100% 304L stainless steel
Direct bolt-on installation
50-state emissions legal
Guaranteed by CORSA for as long as you own your H2 (See CORSA's Limited Warranty for details.)
Model: RW510-1
Pricing: Call 1-800-982-1180