RealStainless™

Bent Stainless Steel Tube

Step-Up Kit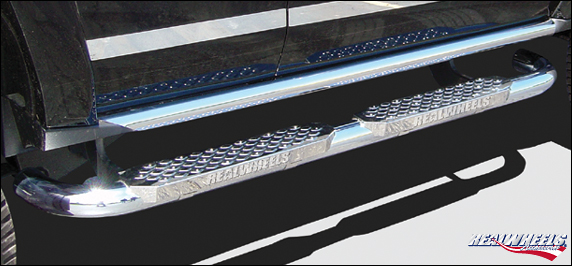 This attractive side step is produced from the highest quality, hand polished, 304 stainless steel for lasting shine and durability. Side steps are stamped with the RealWheels seal of quality. Available with or without Sport Rails.
Please Note: The Bent Stainless Steel Tube Step-Up Kit does not fit on the H3T
Important: Please indicate when ordering if you do not currently have factory side steps on your H3.
Mirror Finish Options
Bent Stainless Steel Tube Step-Up Kit

With S.S. Sport Rails: RW401-4-A0103
Pricing: $1,023.65 (per set)
Without S.S. Sport Rails: RW401-5-A0103
Pricing: $765.10 (per set)
Black Powder Coated Options
Black Bent Stainless Steel Tube Step-Up Kit

With S.S. Sport Rails: RW401-4BP-A0103
Pricing: $1,023.65 (per set)
Without S.S. Sport Rails: RW401-5BP-A0103
Pricing: $765.10 (per set)