RealStainless™

Exhaust Bar Side Steps With

Step-Up Kit Steps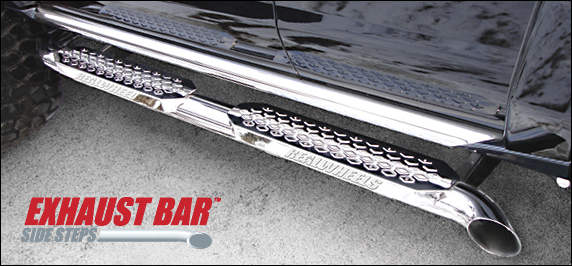 These exhaust-styled side steps have the look and feel of raw power! Tubes are produced from the highest quality, hand polished, 304 stainless steel. Each extra-wide step is produced from polished stainless steel for lasting shine and durability. Side steps are stamped with the RealWheels seal of quality.
Please Note: These side steps only simulate the look of an exhaust pipe. They do not connect to or function as an exhaust system.
Please Note: The Exhaust Bar Sides Steps do not fit on the H3T
Important: Please indicate when ordering if you do not currently have factory side steps on your H3.
Mirror Finish Options
S.S. Exhaust Bar Side Steps With
S.S. Step-Up Kit Steps

With S.S. Sport Rails: RW404-4-A0103
Pricing: $1,023.65 (per set)
Without S.S. Sport Rails: RW404-5-A0103
Pricing: $765.10 (per set)
Black Powder Coated Options
Black S.S. Exhaust Bar Side Steps With
S.S. Step-Up Kit Steps

With S.S. Sport Rails: RW404-4BP-A0103
Pricing: $1,023.65 (per set)
Without S.S. Sport Rails: RW404-5BP-A0103
Pricing: $765.10 (per set)