RealStainless™

Stainless Steel Step Up Kit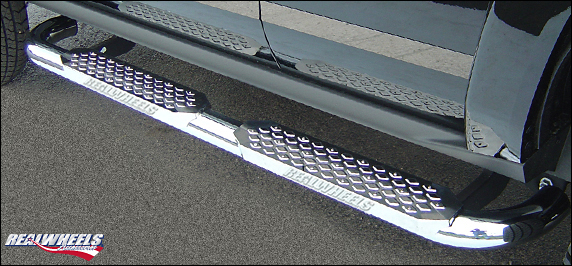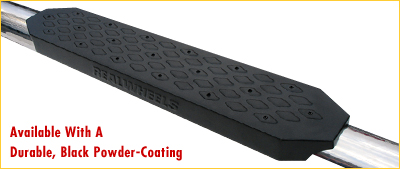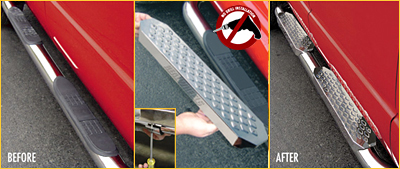 A common complaint about factory side steps is the unattractive, and often slick plastic step surface. RealWheels patented "Step-Up Kit" has become the number one solution. These attractive, high quality stainless steps simply cover the plastic factory piece without the need for a completely new side bar. The new step is wider, and features the "RealGrip" non-slip surface for more confidence in entering and exiting the vehicle. The Step Kit is completely constructed from mirror shine stainless steel and installs in minutes with NO DRILLING required. Looks great on chrome or black side bars. Made from heavy-gauge, high quality 304L stainless steel that is absolutely guaranteed not to rust, pit, corrode, or ever lose its shine.
Patent Pending
Mirror-Shine Step Up Kit: RW420-1-A0103
Pricing: $303.05 (per 4-step set)
Black Powder Coated Step Up Kit: RW420-1BP-A0103
Pricing: $303.05 (per 4-step set)
Solution to Vehicle Safety Concerns
The sales success of the new Hummer H3 has thousands of consumers climbing in and out of these popular vehicles every day. Unfortunately, the factory side steps are positioned so close to the vehicle, that users find it difficult to position their foot securely on the narrow, plastic step. The Step-Up Kit provides H3 owners with a wider, more slip-resistant step, while enhancing the vehicle's look with an attractive stainless steel design.