RealStainless™

Stainless Steel Exhaust Bar Side Steps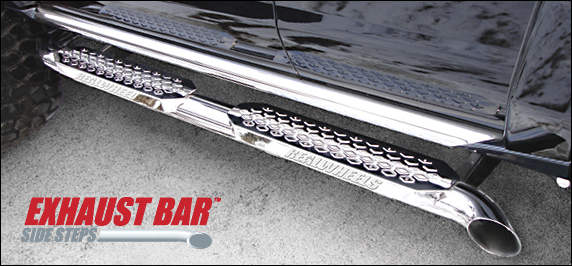 These exhaust-styled side steps have the look and feel of raw power! Tubes are produced from the highest quality, hand polished, 304 stainless steel. Each extra-wide step is produced from polished stainless steel for lasting shine and durability. Side steps are stamped with the RealWheels seal of quality.
Please Note: These side steps only simulate the look of an exhaust pipe. They do not connect to or function as an exhaust system.
Important: Please indicate when ordering if you do not currently have factory side steps on your SUT.
Exhaust Bar Side Steps with S.S. Upper Tube Facade, without Back Plate
With Stainless Steel Step
Model: RW404-4-A0102
Pricing: $907.00 (per set)
Exhaust Bar Side Steps with S.S. Upper Tube Facade, with Plain Back Plate
With Stainless Steel Step
Model: RW404-5-A0102
Pricing: $969.45 (per set)
Exhaust Bar Side Steps with S.S. Upper Tube Facade, with LED Lighted Back Plate
With Stainless Steel Step
Model: RW404-6-A0102
Pricing: $1,217.10 (per set)