Track Time Ultimate Race Team Support Vehicle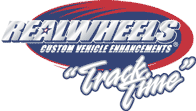 If you own a race team, operate a racetrack facility, or just trailer your ride to local car club events, this vehicle is for you. The project vehicle team at RealWheels Accessories has pulled out all the stops this year, to create the "Ultimate Race Team Support Truck", unveiled in November at the SEMA (Specialty Equipment Market Association) show in Las Vegas.
Vehicle Features
This attention-getter started as a brand new 2005 Hummer SUT, which now features more than 500 LED lights, numerous emergency strobes & sirens, 20 video monitors, custom paint, amazing sound system, a 700+ HP supercharged motor, and many one-of-a-kind accessories that have been hand fabricated by the innovative team at RealWheels. Every aspect of this SUT has been modified, and is now reported to be valued at nearly $300,000. Team member, Cory Polka adds, "Just when you think you've seen all the modifications on this SUT, you're guaranteed to find something else. We did our best to add small detailed highlights all over the vehicle, so people just keep discovering more."
A Tribute To Race Crews
"Our staff loves motor sports!" exclaims RealWheels VP of Marketing, Jhan Dolphin, "Recognition is usually given to drivers and the awesome vehicles they race, but when has the team support truck, or rescue vehicle ever been showcased? Yes, ours is a bit over-the-top, but that's what has made the "Track Time" project so much fun. It's kind of our tribute to the dedicated crews who do an amazing job of keeping the sport of racing as safe as possible."
Sponsors
RealWheels would like to thank and recognize the many sponsors for their support with this project. View sponsor list.
SEMA Show Booth
View photos of the RealWheels booth at SEMA 2004.