RealStainless™

Slotted Front Upper Bumper Overlay Cover Kit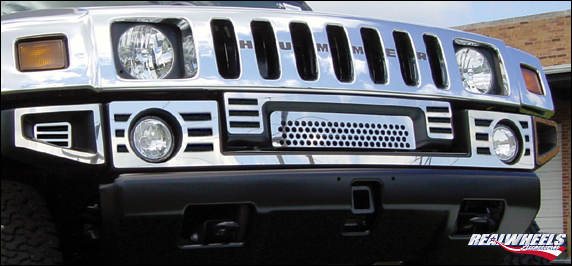 This eight-piece kit is the best way to start customizing your H2. Cover the bumper with mirror finish or diamond-plate depending on the use of your vehicle, or your personal style. The slotted kit includes style-enhancing, laser-cut slots that compliment the H2's design features.
Quick and easy attachment with heavy duty 3M tape.
Mirror Shine: RW103-2-A0102 (models 2007 and earlier)
For 2008 H2/SUT Alpha: RW103-2-H2A
Pricing: $459.40 (per 8 piece set)
Diamond Plate: RW103-2DP-A0102
Pricing: Call for pricing.
View Representative Sample
Note: This product is a Special Order and may take 4-8 weeks to deliver.
New Lower Pricing!
Complete your bumper package with our Stainless Steel Tow Hooks.